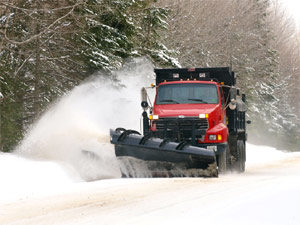 Highway Department
Easton Highway Department
31 Fry Pan Road
Easton, ME 04740
Phone: (207) 488-7705
Fax: (207) 488-7706
Summer hours are Monday – Thursday 6:00 AM to 4:30 PM (May through October)
Winter hours are Monday – Friday 6:30 AM to 3:30 PM (November through April)
The Highway Department is responsible for town-owned roads. This would include snow removal, ice control, paving, installing culverts, road signs, and ditching. We also maintain all town-owned vehicles and equipment.
Winter Suggestion: This suggestion from the Easton Highway Department will reduce the amount of snow that is pushed into your driveway by the Town/State snowplow and will reduce the possibility of your mailbox being hit by the plow truck.
Mailbox Support: Regulations on placing your mailbox.
Department Staff
Robert Clark
Highway Foreman
Michael Pelkey
Equipment Operator